Billet Hime Joint Link
Billet Hime Joint Link
Click Here to order this product from our store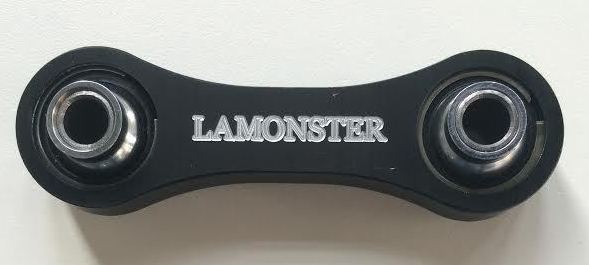 This is not so much of a tech tip but it is something owners need to be aware of. There have been several failures of the stock plastic oem links and BajaRon has come up with a direct replacement made from billet that will never fail. These can be added to a stock swaybar and is standard with any BajaRon upgraded swaybar.
Custom Performance Heim Joint Link Set for the Can-Am Spyder
All Years, All Models 2008 - 2015 RS, GS, RSS, ST, STS, ST Ltd. RT, RTS, RT Ltd.
Will Fit Stock or Custom Sway Bars
Link Sets are NOT Model Specific.
BajaRon's/Lamonster Billet Aluminum Links are a Direct Replacement for the BRP OEM Plastic Links.
Installation Procedure
Diagram #1 2008-2012 (all models), sway bar assembly only. Does not show A-Arm assembly.
Diagram #2 2013 and 2015 (all models). Includes A-Arm assembly.
Because the components and attachment points are very similar for all years and models of Spyder, we will use only Diagram #2 for reference. If you have a 2008-2012 Spyder you can refer to Diagram #1 for orientation of your parts.
1. (Not required but helpful) Remove the Lower Plastic Air Deflector - Diagram #2 (#55) by removing the (4) Screws (#8) which attach it to the Lower A-Arm (#77). This will allow asy access to the A-Arm mounting bracket.
2. Remove Bolt (#3) and Nut (#4). Do this for both the upper (A-Arm connection) and lower (Sway Bar connection) mounting points. Now you can remove the OEM composite plastic link (#38)
3. Repeat this procedure for the link on the opposite side.
Custom Billet Aluminum Links install in reverse order to OEM link removal.
4. Left Side (Facing Front of Spyder). Using existing Bolt (#3) and nut (#4), attach one new Custom Performance Link to the upper mount exactly as the OEM link was attached. There is no particular orientation of the Custom Links. You may mount either end up and the BajaRon Logo can go either way, in or out.
5. Tighten Upper Mount Assembly. These connections need to be good and snug.
6. Attach Lower portion of link to Sway Bar - Using existing Bolt (#3) and nut (#4), attach the lower portion of the
Custom Performance Link to Sway Bar. Be sure to mount the Link to the OUTSIDE of the Sway Bar.
7. Tighten Lower Sway Bar Connection Assembly. These connections need to be good and snug.
8. Repeat this procedure for the Right Side link.
Note! If your Sway Bar Kit has Limiting Collars, be sure your Links are Vertical! If the link is NOT vertical you need to center the Sway Bar by moving it left or right. You may need to loosen the Busing Clamp Bolts to move the sway bar. If your bar does not have limiting collars, ignore this step.11. Re-attach Lower Air Deflector(s) (#55) if they have been removed.
Congratulations! Your install is Complete!
Diagram #1 - 2008-2012 Spyder (All) - For orientation only
Diagram #2 - 20013-20014 Spyder (All) - Instructions reference this diagram only