Product Description
(ALL F3 & RT Models)
THE ALL NEW MONSTER MOUNT 2.0
This is a center handlebar mount Monster Mount Plate with many options as you have become a custom to seeing here at Lamonster Garage.
This kit includes: Monster Mount Plate 2.0, 1 - 1" Ram Ball, 1 X USB power plate, 1 x 12v plug power plate, 2 x bolts, 2 x bushings for mounting.
There is also a standard X-Grip or LRG X-Grip option at bottom of this page.
Cradle Dimensions, Standard X-Grip
Minimum Width = 1.875" (Minimum Height = 4.25")
Maximum Width = 3.25" (Minimum Height = 2.25")
Depth = 0.875"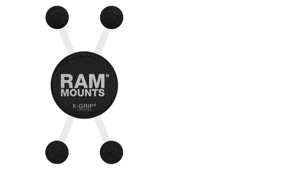 Compatible Devices
Apple iPod touch (All Models)
Cradle Dimensions
Minimum Width = 1.75" (Minimum Height = 5.5")
Maximum Width = 4.5" (Minimum Height = 3.25")
Depth = 0.875"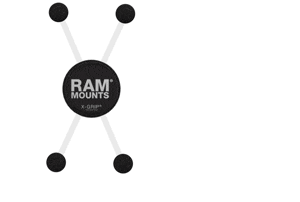 Compatible Devices
Product Videos
Custom Field
Product Reviews
Monster Mount 2.0 with Dual Power Plates

Very nice placement for everything I need at my finger tips. I have my phone mounted with a short ram mount onto a Quad Lock case. This gives me maximum screen with no interference from the mount. The cigarette lighter to SAE connector will either plug into the trickle charger or my heated gear (with adapter). A 1 foot braided USB cord fits perfectly to my iPhone. I love the lever lock to splice the wires together. The amount of wire makes it an exact fit. With wire loom it ended up very tidy. I would have like a little more slack but it worked. The hand bar bolts were a bear to get loose because of the lock tight even with a 1/2 large socket wrench but once out the new bolts fit right in. Some written instructions would have been nice but I was able to follow the videos no problem but the extra spacers through me initially but I take it they put 2 different spacers in for either RT or RS ? So I used the long spacers on my RT and everything is perfect.

Like everything else from Lamonster, extremely well crafted and tidy on the bike. After placing orders a half dozen time for a variety of Spyder goodies, Jacob got these out the door the same day, as always. Can't say enough about the quality that comes out of this shop, exceeded only by the customer service.