Product Description
Fits All F3 Models, All RT Models, All ST Models and RS 2013-2016
F3, F3-S, F3-T, F3-LTD. (Does Not Fit Drag Bars)
RT, RT-S, RT-LTD (Does Not Fit Tri-Axis Bars)
ST, ST-S, ST-LTD
RS, RSS 2013-2016
THE ALL NEW LAMONSTER MOUNT 2.0
DOES NOT FIT F3 DRAG BARS OR RT TRI-AXIS BARS.
This is a center handlebar mount Lamonster Mount Plate with many options as you have become a custom to seeing here at Lamonster Garage.
This kit includes: Lamonster Mount Plate 2.0, 1 - 1" Ram Ball, 1 - USB Cable Holder, 1 - Power Supply, 2 x bolts, 2 x bushings for mounting.
There is also a standard X-Grip, LRG X-Grip or the "New" Lamonster Approved Phone Holder option at bottom of this page.
Lamonster Approved Phone Holder
This is a very solid mount compared to others on the market. It comes with a 1" ram ball on it so it will directly replace an X-Grip or LRG X-Grip.
Lamonster Approved Phone Holder with 1" Ram Ball Mount (LGA-4018)
Material:
Aluminum alloy
Width:
55mm (2 3/16") can be adjusted 100mm (3 1/2")
Phone holder has six claws to hold your phone securely in mount.
Cradle Dimensions, Standard X-Grip
Minimum Width = 1.875" (Minimum Height = 4.25")
Maximum Width = 3.25" (Minimum Height = 2.25")
Depth = 0.875"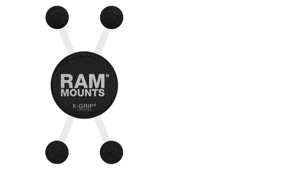 Compatible Devices
Apple iPod touch (All Models)
Cradle Dimensions
Minimum Width = 1.75" (Minimum Height = 5.5")
Maximum Width = 4.5" (Minimum Height = 3.25")
Depth = 0.875"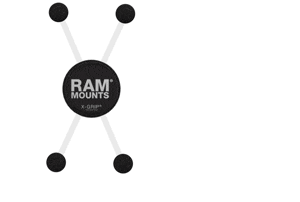 Compatible Devices
If you have any questions about this product email us at LamonsterGarageSales@gmail.com
WARNING: California Residents - www.p65warnings.ca.gov
Product Videos
Custom Field
Product Reviews
Monster Mount 2.0 with USB-holder/power supply/phone holder

Works great, fairly easy instillation. Most difficult was removing the factory installed Garmin GPS.

Great product, install easy except replacement hardware not same size as original, need Torx set ( more of FYI) than criticism. Product works great

Great customer service.(Jacob was a big help in showing me what I needed).
Quick shipment and very good quality. Easy install.
I removed the lower left cap/ Allen head bolt and attached the the usb block underneath using a longer cap bolt and a locknut). The block is practically invisible now. I ordered a 7 " usb cable that I use from the block to my iPhone. Works great.
Thanks Lamonster Team

I ordered this holder with the Phang mount. We received it is a couple of days. The quality and precision are top notch. We have a 2019 Spyder RT Limited with the USB in the front trunk. I was able to route the extension under the side panels cable and connect. Install looks great. Provided bolts are stainless steel so there won't be an issue with rust. The Phang holds the phone securely and is quick and simple to use. Highly recommend this mount system!!

Simple, Secure and Powerful

I installed this by myself on my 2015 RT. I love how secure the ram mount holds my iPhone. I now have power wherever I go and it is right up front with me. No longer need to charge my phone in the trunk. I also bought the 12 inch lightning cable.