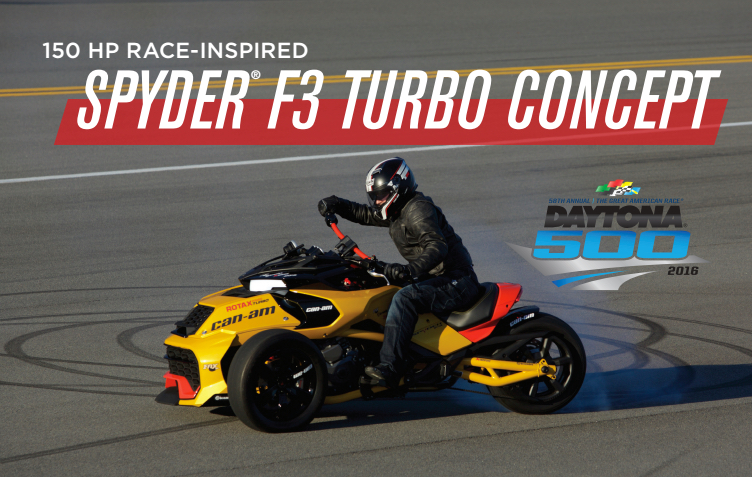 Through the years manufacturers have teased us with what they could build if they wanted to......it's their way of testing market response and flexing a little muscle at the same time. I recall the days when Honda built four concept Valkyries and showed them off at all the major motorcycle events. One of those concept Valkyries eventually became the Honda Rune years later. Many times these concepts never make it to market due to the production costs or lack of public response. But no matter if this one makes it to market or not, gearheads like me love to see this kind of concept put out there for public consumption.
As you may or may not know BRP is a new NASCAR sponsor and it seems only fitting for them to build an over the top performance Can-Am Spyder to show they know more than a little about building power, too. This is the company that came out with a factory installed turbo on the Can-Am Maverick and an insane 300 horsepower Sea-Doo RXP-X. The success of these products has been built on the bulletproof Rotax engine that comes groomed for performance stock.
In 2015 the Can-Am Spyder F3 was released to the public as the hotrod line of the Spyder. It has a lower center of gravity with improved handling and the addition of the new 1330cc inline triple with 115 horsepower and 96 lb-ft of torque puts the fun factor through the roof. These features made the F3 the perfect candidate for performance upgrades. BRP gave the challenge to their experts at Rotax to work with them to unleash the potential of the 1330cc Rotax engine.


As any gearhead knows the best way to make power is to add more air so you can add more fuel. The down and dirty way is to add a shot of nitrous oxide but when the bottle runs out you're back to stock and nitrous has killed more than a few motors. Another option is the addition of a supercharger. BRP and Rotax have been using superchargers for many years in their PWC line. The other proven power producer is the addition of a turbo and this is the direction they chose and the results get me excited just writing about it.
Imagine, if you will, a factory built F3 1330cc with 150 hp at 6800 rpm and 137 lb-ft at 5000 rpm. Then imagine a SPORT or DRIFT mode that would allow you to have some real fun without pitching you off the bike like a lawn dart. I know that option has been talked about for years on the Spyder forums but until the arrival of the F3 with its lower seating position it really wasn't possible. The NASCAR inspired F3 will run a respectable 12.3 seconds in the quarter-mile and that's fast enough to bring out the hooligan in all us gearheads.
I would like to point out this is just a concept and bringing something like this to market would add another $4-5K I'd guess. You would lose your trunk space for the intercooler, you wouldn't get the cool racing slicks and it would have to have fenders, head and tail lights, turn signals, mirrors and all the other street legal stuff but a factory built F3 with a turbo and a warranty would be a great ride to have in the barn. It's not the Spyder you're going to tour on cross country, you have the RT and F3T models for that, but it would be a great hotrod to play with on the weekend and maybe get some track time on. This may not be the Spyder for the masses, but just like NASCAR I think it would have a very strong following for gearheads like me who love ultimate performance and power.


Feel free to share this on your Facebook page and any social media and you can add comments at the bottom of this page too.
Click on pics for full res